Cinque Terre in one day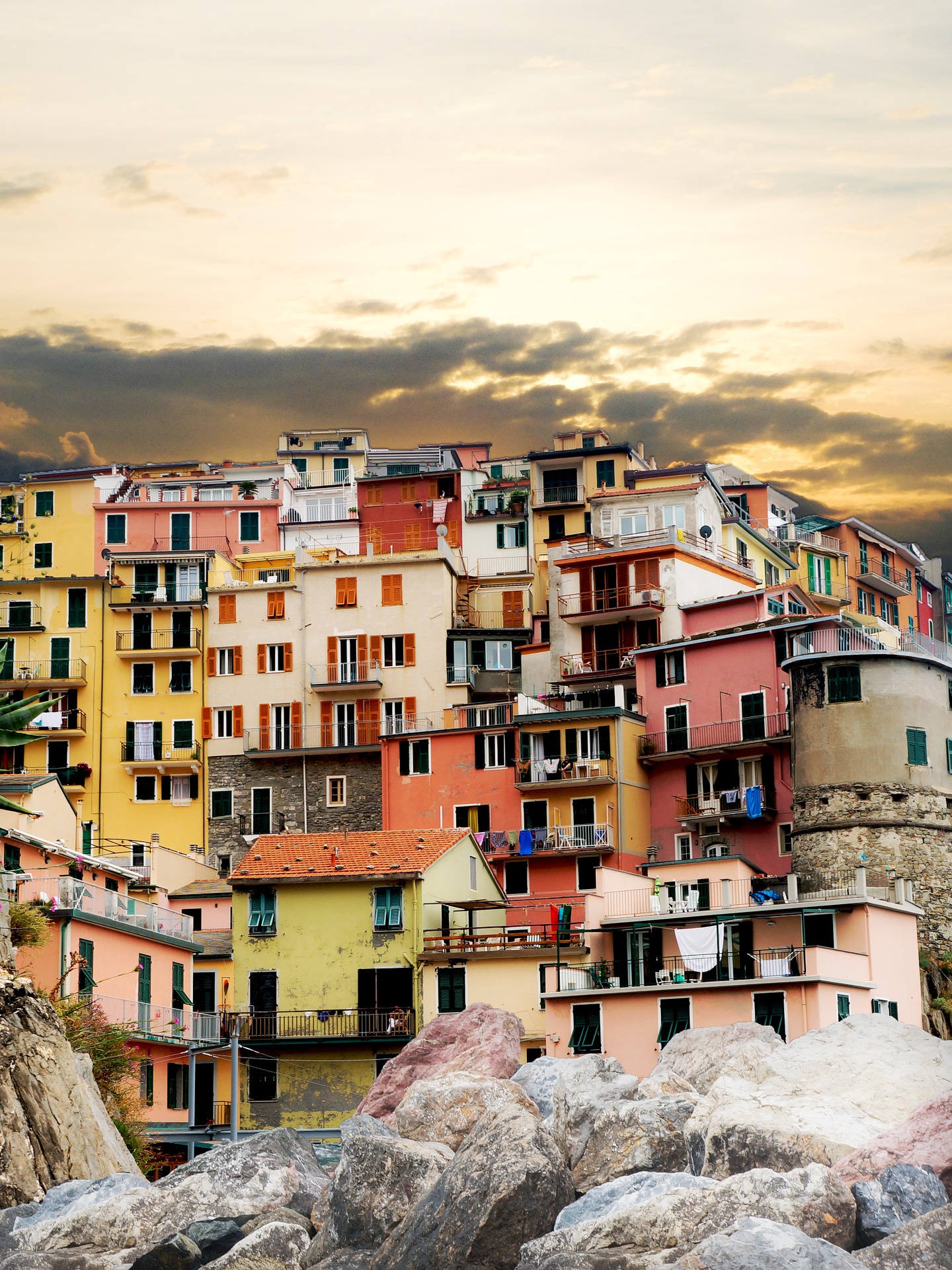 Nothing beats the colors and shapes of Italy's own Cinque Terre. As they cover a stretch of the Liguria coast that can either be discovered by boat, train, bus or bike, you may visit the tiny villages of Vernazza, Corniglia, Manarola, Monterosso and Riomaggiore in no particular order. Here's a hint you might need for a nice itinerary.
As you walk up the long Lardarina stairway, challenge yourself to count the steps and not be distracted meanwhile by one of the best panoramic views of coastal Italy. No matter how focused you might be, Corniglia will fill your eyesight with fresh green vineyard hills and tiny little houses that paint the deep blue sea a thousand shades of red, yellow and pink, from the edge of a three hundred feet-high cliff.
Via dell'Amore is a half a mile-long stretch of the Sentiero Azzurro (blue path) that is carved into the rock amidst the Mediterranean scrub. This romantic pathway above the sea level links the charming villages of Manarola and Riomaggiore: among their picturesque tower houses you will find the majestic fourteenth century building of the Church of San Lorenzo and the Sanctuary of Montenero. From up here, on a clear day you might even see the lines of Isola d'Elba and Corse beyond the horizon. Take a good break at one of the small bars that lively up the heart of old Riomaggiore, and enjoy a glass of local Sciacchetrà wine.
As the road and the sun begin to approach the sea, watch the locals pull their fishing boats up by the tiny port of Riomaggiore. Once back onto the lively inner streets of the village, a mosaic-decorated tunnel will lead you to the railway station, where trains leave for all other four Cinque Terre.
A spur separates the natural port of Vernazza from the centre of the village. Visit the iconic Belforte Tower and the terrace of the Doria Castle, to enjoy a breathtaking view of the coast up to the near Monterosso - which hosts the biggest beach in the Cinque Terre. Of the thirteen medieval towers that used to protect the burg from foreign attacks, Torre Aurora still looms up against the colorful landscape. From the little harbor, take the street that leads up to Colle San Cristoforo and snap a good shot of the eighteenth century Church of San Francesco in the day's last rays of light.
Useful tips:
What to buy in Cinque Terre: the little artisanal shops are a must-see. Pop by one and be amazed by the beauty of the unique handcrafted souvenirs and the artistic canvas paintings.
What to taste in Cinque Terre: farinata di ceci, a pancake made with chickpea flour, and testaroli al pesto, freshly hand-made pasta with the authentic pesto sauce.
What to sip in Cinque Terre: Sciacchetrà delle Cinque Terre is a top-notch local dessert wine