Montecatini Alto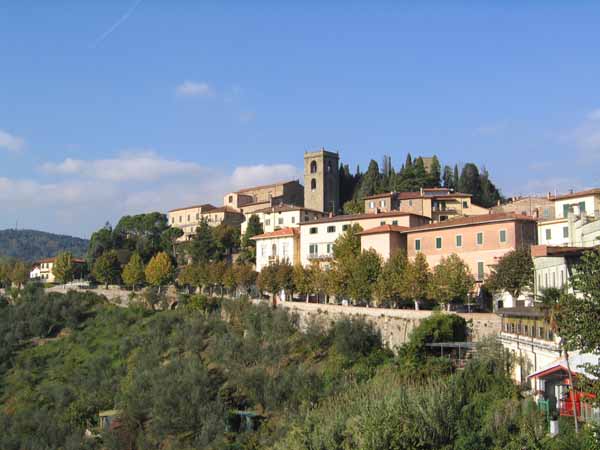 Everyone who travels to Montecatini Terme, have to stop in Montecatini Alto. You can get there with a funicular railway that goes up to 290 meters and, once at the top, you can enjoy a wonderful view of the Pistoia countryside and a walk up to the Rocca di Castello Vecchio.
Montecatini Alto is a delightful medieval town built around a castle of Romanesque origin and was the only existing town in the area for a long time, until Grand Duke Leopold reclaimed the underlying thermal swamp building Montecatini Terme.
Walking through the narrow streets and cobblestone alleys you can admire the remains of the ancient castle, traces of walls which were destroyed in 1554 by Cosimo I de'Medici and one of the six gates, the "Borgo". Four towers are still visible one of which is now incorporated in the built-up area of ​​the bell tower, one is a part of the remains of the Rocca; a third is the clock tower that guards the central square, and the last is in front of the Convent of Santa Maria in Ripa, dating back to sec. XVI.
Deeper in town you can visit the Romanesque church of San Pietro Apostolo designed by Antonio Zannoni, and the adjacent museum which houses precious furnishings of the castle and a Gothic reliquary, the head of the patron saint, Santa Barbara, a "Maestà lignea" of the century XII, a Nativity and a "Glory of Christ", attributed to some famous artists like del Sarto and Orcagna.
Montecatini Alto is even more impressive at night when the lights turn on in the valley and on the hills and the air cools. We advise you to take a walk in Piazza Giusti, the center of a nightlife that will surprise you.