From the Val d'Orcia to Volterra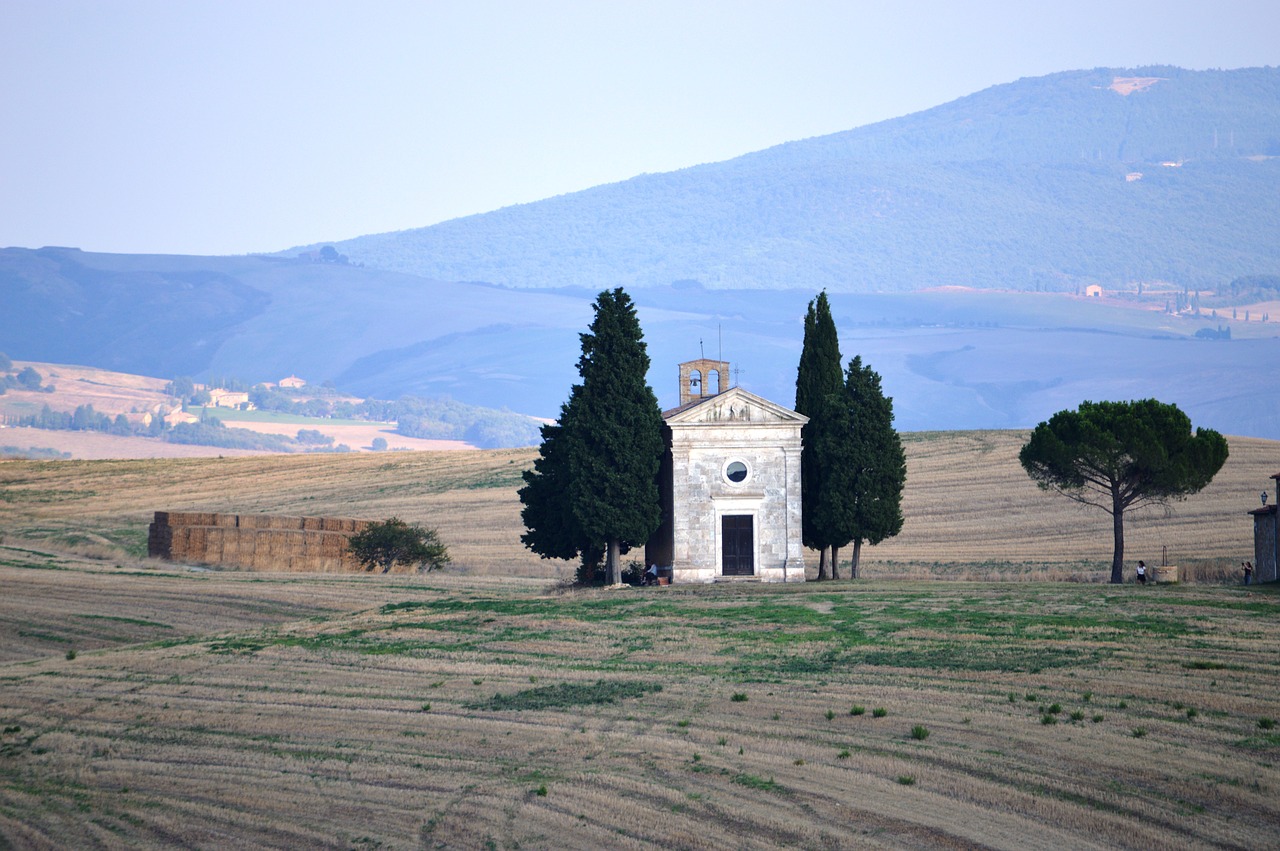 Visit the Val d'Orcia and Volterra and discover one of the most fascinating landscapes of Italy, made of small medieval villages, scattered among the gentle Tuscan hills at the foot of the majestic Mount Amiata.
So many movies have been shot among the deserted crete senesi, the fields of grain, the olive groves and the fine vineyards of these places. Ettore Scola, Franco Zeffirelli, Luchino Visconti and Ridley Scott are among the filmmakers that have chosen the Val d'Orcia for their masterpieces.
A tour in this stunning land, so rich in art, history, tradition, wine and food, will be definitely unforgettable.
Tour of 2 or 3 days
Val d'Orcia
A large pool covers the beautiful Piazza delle Sorgenti of Bagno Vignoni, a characteristic village in the heart of the Val d'Orcia. Since Roman times, a spring of hot water flows from the underground into the pool, around which the church of San Giovanni Baptist and other prestigious Renaissance buildings stand. The spring water crosses the entire village, that's why Bagno Vignoni features some of the best spa hotels of the area.
Start your tour here and you will not be disappointed.
The Chapel of Our Lady of Vitaleta boasts a unique panoramic location that you can easily reach from Bagno Vignoni even by bike. Inside the ancient bastions of San Quirico d'Orcia you will find the monumental Medici Gardens called Horti Leonini, while a dusty road from the historic center will lead you to the panoramic Ripa d'Orcia. If you want to try excellent wines and food, visit Montalcino with its Brunello vineyards and discover the magnificent Renaissance town of Pienza, accompanied by a tasting of the excellent local pecorino.
Chiusdino
In the heart of the Crete Senesi, do not miss the opportunity to admire the Desert of Accona, a landscape characterized by whitewashed, clayey hills and sandy crags that give it an unusual lunar appearance. Reach Chiusdino, which is home to one of the most renowned Tuscan places: the Abbey of San Galgano, a stunning roofless church dating back to the thirteenth-century with the legendary sword in the rock of San Galgano.
Volterra
Surrounded by kilometers of impressive city walls, Volterra is one of the most important Etruscan cities of Tuscany. Do not forget to visit the Roman Theater and the Etruscan Acropolis; the 13th-century Palazzo dei Priori, which is the oldest municipal building in Tuscany; the 12th-century cathedral and the majestic Medicean Fortress, dominating the city from the highest point of the Volterra Mountain.
Useful tips:
What to buy: artistic pottery and alabaster souvenirs
What to taste: homemade pasta with wild boar sauce, Pienza cheese, extra virgin olive oil and cinta senese DOP, to sip with an excellent Brunello di Montalcino.